Map Unavailable
Date/Time
Date(s) - 03Aug
10:15:00 - 12:00:00
Categories
If you were to ask many business executives, they would say their customer service contact center is a necessary expense that does not contribute much to the bottom line.
As such, they don't emphasize technology upgrades or process improvements for in-house centers. Some companies outsource their contact center or even consider eliminating their contact centers altogether, considering them less relevant in this age of digital self-service.
But what if you could turn your customer service contact center from cost to profit? In fact, what if it could become a significant revenue generator in the entire company?
In this webinar, you will learn how a cutting-edge contact center empowers you to reach your customers wherever they are, using the communication channel they prefer. You will learn how you can build up customer-centric conversations using rich, relevant, timely data from Twilio's Customer Data Platform that empowers your agents to cross-sell and up-sell with confidence.
Date: 3 August 2022 (Wednesday) / Time:  10:30 – 12:00 (HK Time)
Platform: Zoom Webinar / Language: English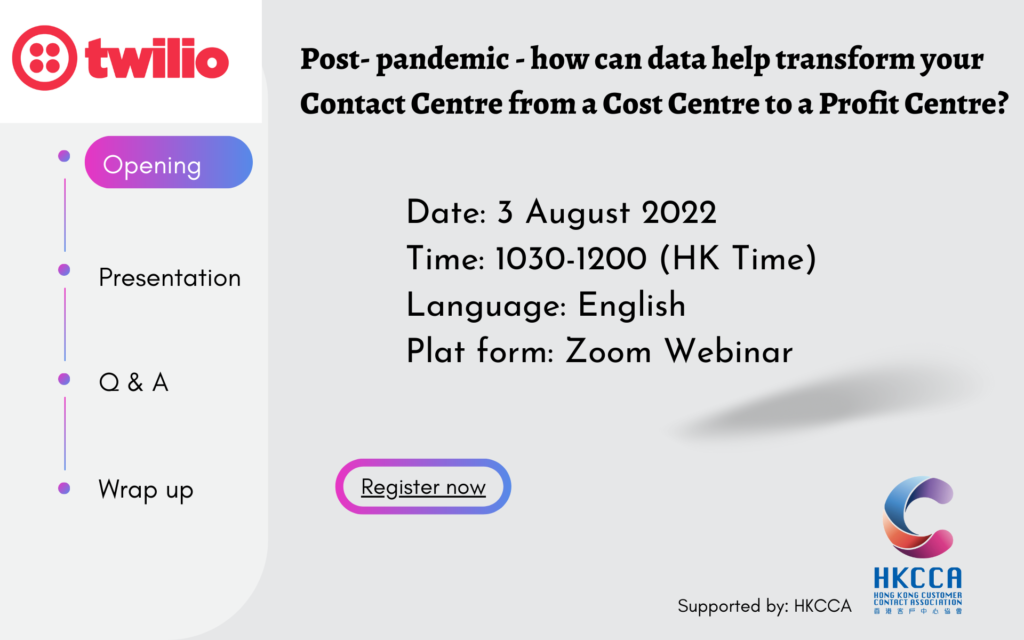 Agenda:
10:15 – Registration
10:30 – Opening address
10:35 – A whole new customer experience – the evolved Contact Center that empowers you to reach your customers wherever they are.              Speaker: Mr. Eric Loh
10:55 – Build up a customer centric conversation – the Customer Data Platform (CDP) equips you with all the data you need before you start talking to your customers.     Speaker: Mr. Jimmy Pak / Mr. Albert Chew
11:15 – Let's experience in real life how Twilio helps you to make all these happen.    Demo by Shivram Chandrasekhar
11:40 – What is Twilio? Customer layer for the internet, powering the most engaging interactions that companies build for their customers.          Speaker: Mr. Eric Loh
11:50 – Q & A
12:00 – Wrap-up
——————————————————————
About Twilio
Today's leading companies trust Twilio's Customer Engagement Platform (CEP) to build direct, personalized relationships with their customers everywhere in the world. Twilio's leading communications APIs enable companies to engage with their customers across voice, conversations, messaging, video and email. Twilio Segment, the leading Customer Data Platform, allows companies to create highly personalized interactions and automated customer profiles based on first-party data from multiple channels. Twilio enables companies to use communications and data to add intelligence to every step of the customer journey, from sales to marketing to growth, customer service and many more engagement use cases in a flexible, programmatic way. Across 180 countries, millions of developers and hundreds of thousands of businesses use Twilio to create magical experiences for their customers.
Bookings
Bookings are closed for this event.